We are back! Back in Vienna and filled with inspiration from our Summer Tour. We have been travelling continuously for 5 weeks to teach, practice, discover, relax, perform and of course meet a lot of old and new people, friends and family. Ooooh and we've been swimming in the baltic sea and the channel. But let's start from the beginning ;-).
Leaving Vienna on August 6th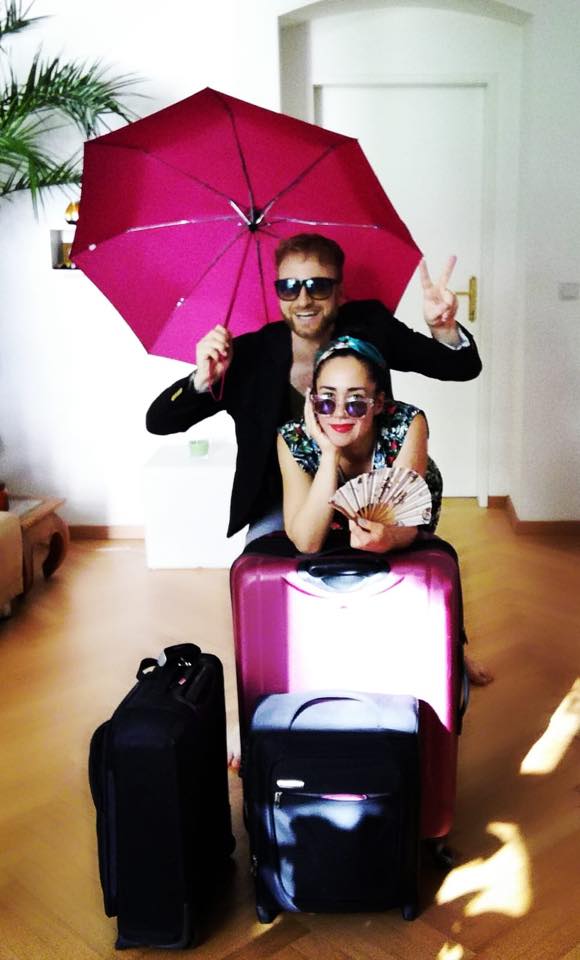 This was the moment when we were just leaving Vienna. As you see we had quite a bit of luggage… we never know, how many suits, dresses, shirts, shorts etc. we'll need… and that is only the clothing part  🙂 Well, our first stop was a veeery interesting event in Poland close to the seaside in Koszalin. 
To get there was a little journey: We took the early flight from Vienna to Berlin. Had tired but beautiful brunch for 4 hours with Sayaka's sisters, their families – gathering around her Highness, our newborn niece – such a beautiful baby <3.
As beautiful as it was, we had to leave at 15:00 Uhr to pick up our rental car and drive to Koszalin to meet with the organizers and other maestros from Maritime Tango Challenge in Koszalin, Poland. 
It was an easy 3 hours drive and we arrived safe and sound, just in time to enjoy the warm welcome of Agnieszka and Timoteusz. Agnieszka and Timoteusz are a very lovely couple, who showed us around in the city of Koszalin and we had a very nice talk and some great homemade food. We even got to know Timoteusz' parents, who came back from a swim in the sea. It was a great evening and almost without noticing it was after midnight when we decided to get to the hotel and have a little rest before the Tango Challenge would start the next day.
MARITIME TANGO CHALLENGE 
 The facts are simple – 36 Workshops in 6 days, 40 students, 2 teacher couples. Evening Milongas, seaside, 2 spas, outside dancing in a great house with a huge garden.
Well, it sounds like an impossible thing to do – but miraculously the incredible Agnieszka and Timoteusz managed the whole week with a lot of care and good vibes.
The group consisted of very indivudual personalities, forming an amazingly dynamic and inspiring crowd to work with. We had our 18 workshops built on three basic principles, being "linear movement and gravitational center", "circular movement & spiral dnymics" and "body communication & improvisation".
The concept of Maritime Tango Challenge is great. We were two Maestro couples with different background and of course differing ways to teach. The challenge was for the students who were divided in two groups, learning the same subject, one day with one couple and the other day with the other couple.
From the organizers there was no limit or expectation in how or what should be taught and so it was great to see how with each day, the students opened up their minds and flexibilized their body-work, understanding, that there is no right or wrong but just different possibilities and a different feeling depending on how movement is addressed.

Over the 6 days we saw great development in each and every student, and what we loved the most was to be free to work individually with every peronality and dancing couple. Like this we were able to address personal as well as interactive difficulties and resolve more and more tensions and blocks day after day. On the last day we had the feeling to have build a connection and understanding with the whole group and it was an overall joyful experience.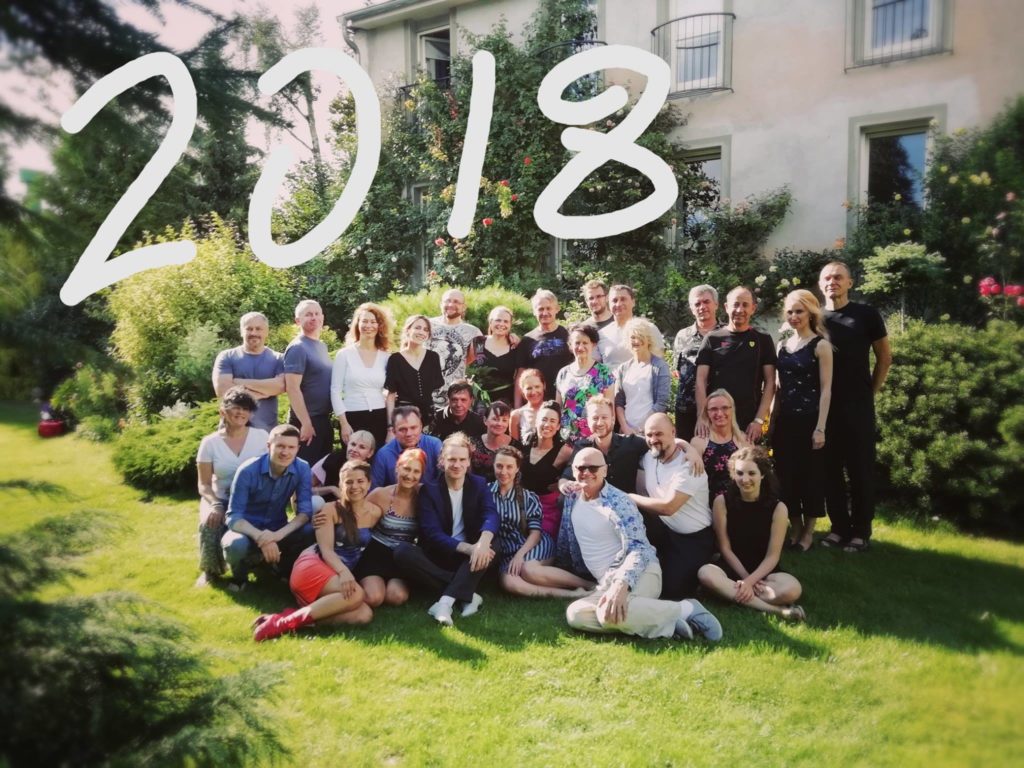 Now, we said the Tango Challenge was challenging for the students, but of course the organizers had something challenging in mind for the maestros as well :-). 
The last night of the Event, was the big night with all the dancers coming together and both maestro couples performing their art. Their were 5 songs to be danced.
1. Sayaka y Joscha – 2. Agnieszka y Timotheusz
untill there it was still normal – well, the challenge you have when improvising a dancing show. But then the REALLY challenging part began:
3. Joscha (blindfolded) – with Agnieszka – 4. Timotheusz (blindfolded) – with Sayaka
5. Timotheusz & Joscha (both eyes open again 🙂
Well, I must say, I could only imagine how it would feel to not see anything and perform with a partner that I had never performed with – like with most things I didn't know, I can now say, great experience – WOW!!! And also on the other side – to feel the responsibility Sayaka and Agnieszka dancing with a partner who they didn't know and who could not see. IT WAS A GREAT CHALLENGE – AND BEAUTIFUL EXPERIENCE!

We thank Agnieszka and Timotheusz for their great organization, dedication to honesty and openness to let art emerge in new forms. We thank also every student who was open and brave to share and let in our sometimes challenging way of teaching ;-). We loved to work with all of you :-* And of course we want to thank Timotheusz' parents Ulla and Edward who opened their house heart and garden to make it a cosy and warm experience for everybody. THANK YOU FROM OUR HEARTS! 

Sayaka & Joscha